 Because sound training means safe sailing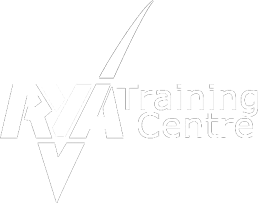 Courses available from PanPan Sailing School


PanPan offer a wide range of RYA Shorebased courses and can tailor courses to suit your individual needs. You can join the RYA scheme at whatever level you feel your own level of skills lies. You don't need to start at the bottom, but the scheme is designed to take an absolute beginner to become a competent skipper.

We pride ourselves on our flexible approach to training, and run sessions on a rolling basis throughout the year. We understand that our courses have to fit around your other commitments such as work, family and holidays, and therefore offer courses on weekdays and at weekends. Tell us what you need, and we'll do our best to come up with a solution!

Most of our courses are run for groups of 3 or 4 people, however we regularly provide 1 to 1 tuition or larger groups if needed. There is a basic teaching daily rate with additional charges for any equipment, RYA materials and examination, as necessary

Click on the headings below to view the course details:


RYA Essential Navigation and Safety - 2 days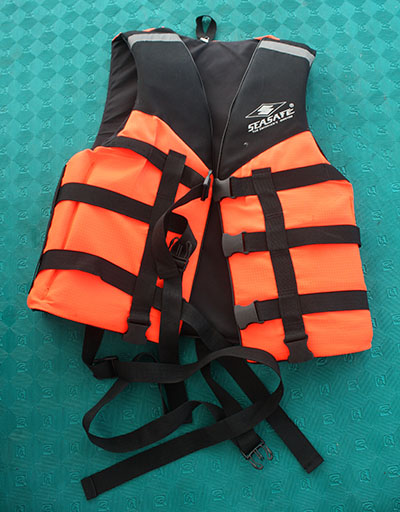 This course is for anyone new to sailing or motor boating. The course is an introduction to navigation and safety awareness for new, inexperienced or rusty skippers and crew. The course material is continually updated to reflect current methods and regulations. A number of those who start this course transfer to the longer Day Skipper course after the first day, but the course is stand-alone and not a watered-down Day Skipper course. There is no examination requirement and an attendance certificate is issued at the end of the course.
RYA First Aid - 1 day
This RYA course is specifically designed for those enjoying water sports. The course covers most of the First Aid at Work certificate (a 3 or 4 day course), but with some sailing-specific additions. You will learn and practice resuscitation and how to deal with emergencies afloat. You will learn about cold water shock, sudden immersion and secondary drowning as well as the dangers of hypothermia. An additional part of the course is designed for off-shore sailors who need to carry some medicines. Along with all other First Aid courses, the certificate is valid for 3 years.
RYA VHF DSC Short Range Radio Certificate - 1 day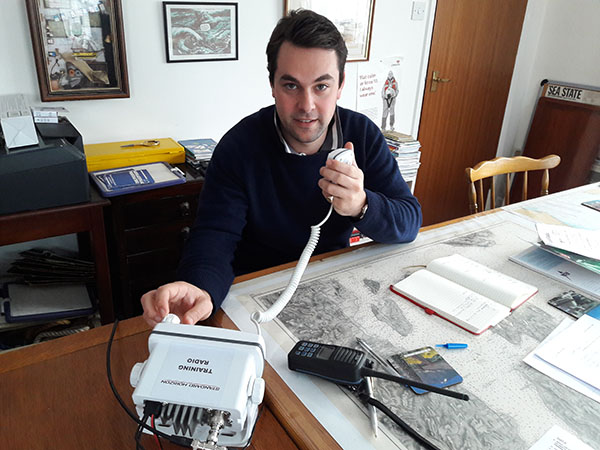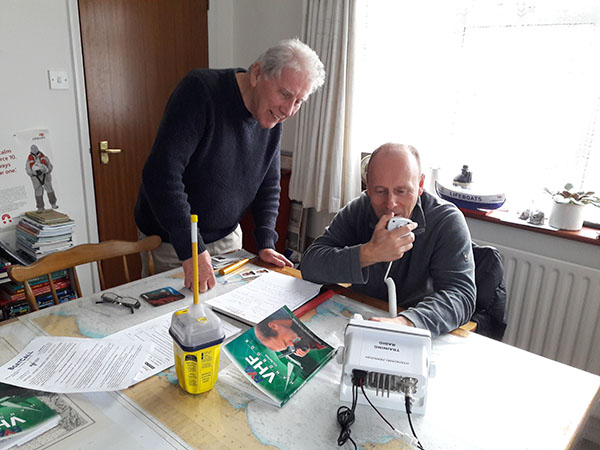 All small boat-owners and anyone purchasing a new or replacement VHF set for their boat requires this certificate to operate a VHF DSC set. Even if all you do is crew or charter boats, everyone should take this course since in an emergency the skipper may not be available to operate the set! The course can also be done on line or with another sailing school and examined here. From September 2003 HM Coastguard ceased to maintain a dedicated listening watch on Channel 16. In busy times this means that the only way of being able to be certain of your distress call being heard is by using a digital VHF radio and sending a DSC Distress Alert. The new SRC course in now an imperative for all small boat sailors. Time to replace our old VHF sets with new digital ones?
We instruct vital radio technique using actual adapted DSC radios for all emergency or routine procedures afloat. You will learn about operating your set, the protocols of radio transmission and how to send emergency messages and when. You will practice these techniques in role play situations.
The practical work and theoretical work is examined by a separate RYA assessor. Certification is by the RYA and a separate examination fee is charged for this. A minimum of three hours pre-course reading and learning is a requirement for this course for normal 7-hour teaching days.
A short course is available for holders of the old VHF Operators Restricted Certificate of Competence to enable the use of the DSC controller. You must provide the old certificate as evidence before a new certificate can be awarded.
GPS Familiarisation - 3 hours
Are you thinking of introducing a new GPS or a Chart Plotter for your boat? This course covers the basics of the GPS, from the satellite system to setting up your set. We will teach you how to get the best out of your set and how to incorporate it alongside traditional navigation methods. We help you understand the new electronic navigation techniques, and how to incorporate the electronic chart with your GPS and traditional paper chart.
RYA RADAR - 1 day
In one day you will learn the basics of operating small-boat radar sets for navigating in day, night and in poor visibility. This is of great importance when considering using your radar set in the busy shipping of the Channel. All the work is done on a computer simulator but the techniques learned will be very similar to that on your boat. It is a non-technical course, designed for the beginner in using radar. An attendance certificate is issued at the end of the course. This course is the minimum recommended to skippers who have RADAR installed on their boat.
RYA Diesel Engine Maintenance - 1 day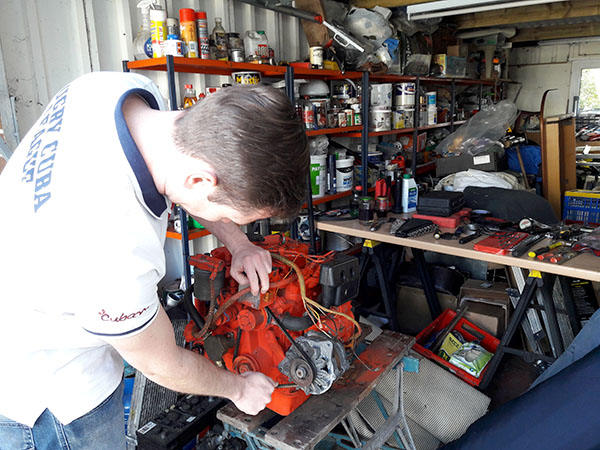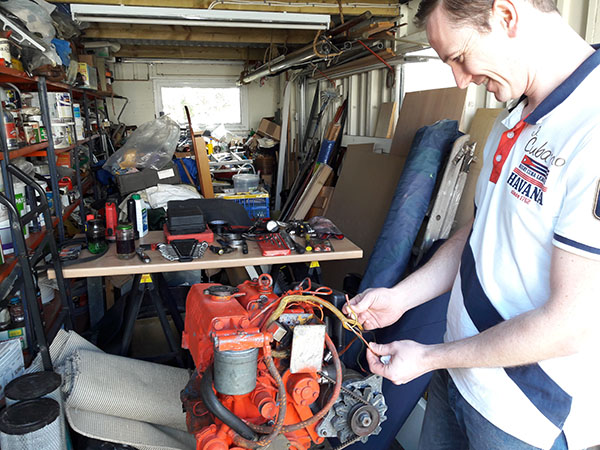 This one-day course is designed for the non-technical boat owner to understand the basics of small diesel engines, normal running procedures and maintenance. It particularly emphasises engine checks to sort out common engine faults and procedures to get you home safely in the event of engine failure. A prime aim of the course is to try and prevent the normal breakdowns that result from inadequate maintenance or understanding.
The course covers small diesel and larger turbo-assisted engine. You will learn how to change filters and impellers in a practical hands-on way. An attendance certificate will be issued at the end of the course. Our instructor can also travel to your boat to advise on maintenance and put the course into practice for you.
RYA Day Skipper Shorebased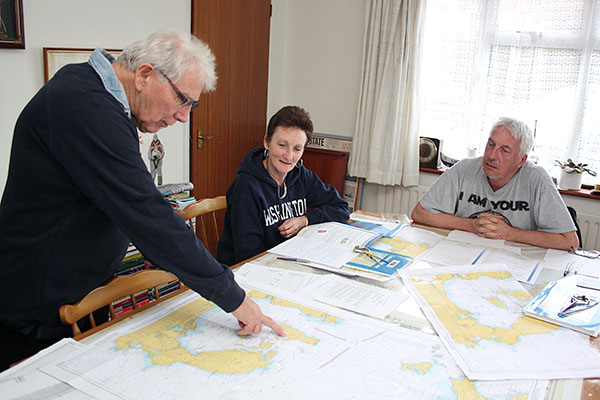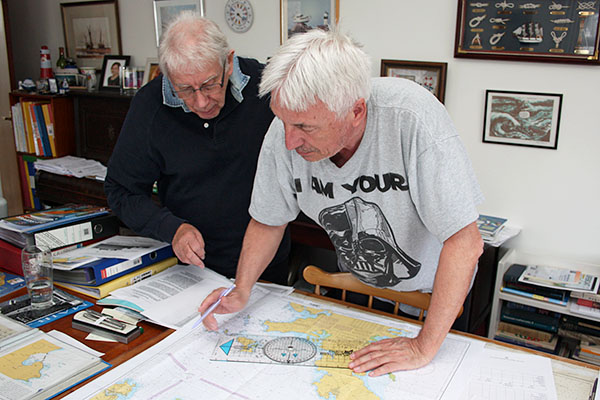 The Day Skipper course assumes no knowledge of sailing or experience of boat handling (although if you have some it would help). You will learn everything you need to know as a skipper of your boat for short daytime cruises.
The course covers how to find your position at sea; how to work out your course sailed; how to get to your destination using the effects of wind and tide; how to plan day-time passages and calculate the height of tides; the art of pilotage including port signals, lights on boats and on buoys; buoyage, the rules of the road; how to interpret weather forecasts; boat structure and other aspects of boat safety; and finally we will look at the latest navigation aids.
This course is the ideal preparation for chartering and is expected before taking the Day Skipper practical course. It is a five day course and a very popular option is for one day a week over 5 weeks. Just let us know how you would prefer to schedule it. There are 2 written examinations to pass at a set minimum standard. We are pleased to say that our course members attain much more than the minimum standard expected, often getting 100%.
RYA Coastal Skipper/Yachtmaster - 6 or 7 days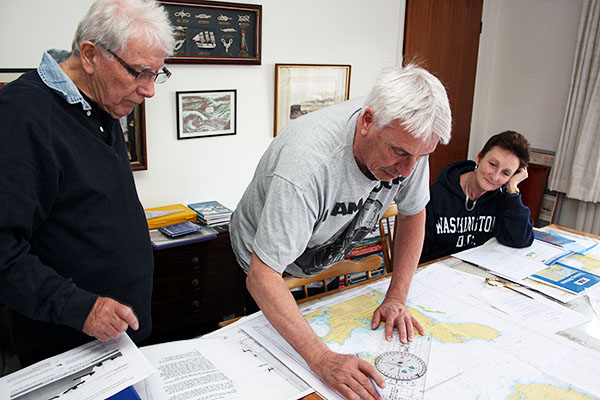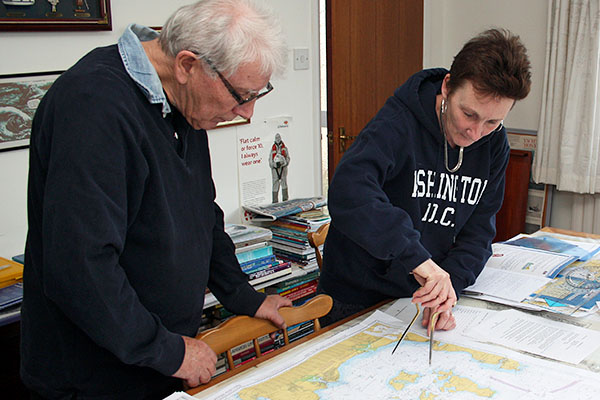 This shorebased course is now recommended by the RYA to last for 6 or 7 days and is designed to follow on from the RYA's successful Day Skipper course, although you may take this directly if you feel you have enough experience.
The theory extends that of the Day Skipper and incorporates boat stability and more detail on the use of the GPS in navigation. You will learn everything necessary to skipper your boat by day and night on longer coastal and offshore passages. A new requirement for the course is an extended pre-prepared planning of a passage incorporating weather and other normal changes that could be experienced on a long day-sail. This exam takes three and a half hours and brings the course up-to-date and much more realistic.
Having successfully passed you will become a more safe and competent skipper and will have the necessary knowledge to enable you to take the RYA Yachtmaster Coastal or Offshore practical examinations.
RYA Yachtmaster Ocean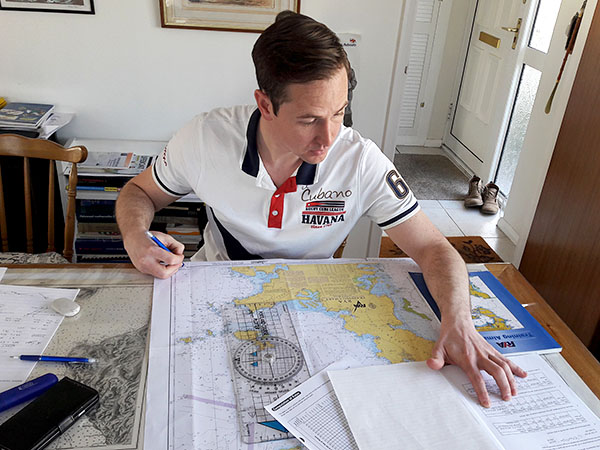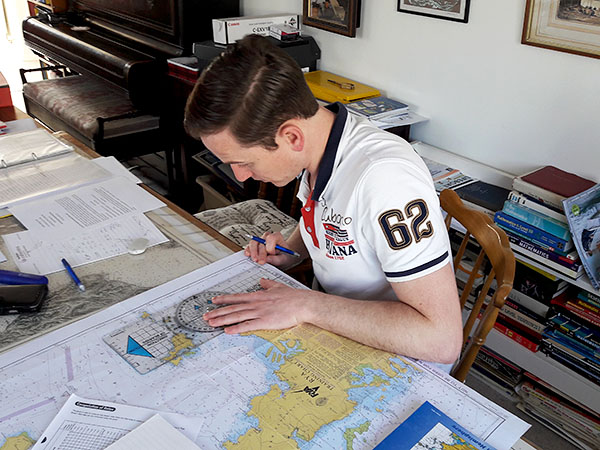 They say it's everyone's dream to sail off into the blue. Well you'll learn how to find where you are without using GPS, going right back to basics using a sextant (which we provide).
In small, friendly classes we help you to get to grips with using the sextant. We take you through the navigation tables in an easy but thorough manner. We also use calculator methods to check your position. We have 100% success on our ocean examinations. All you need is an ocean to cross, the necessary mileage, to write up your log and you will be ready for the practical assessment! You will learn how to navigate by the sun, the moon, the planets and the stars. You will cover ocean currents, pilotage, routeing, passage-planning , world weather and have all the skills to plan a successful ocean crossing. You will need to consult tables (provided in the course pack), but no heavy mathematics is used.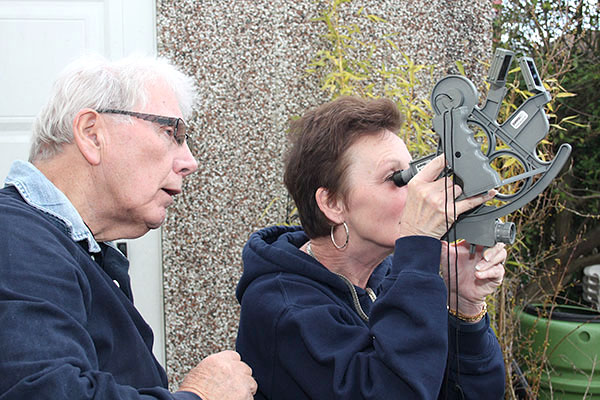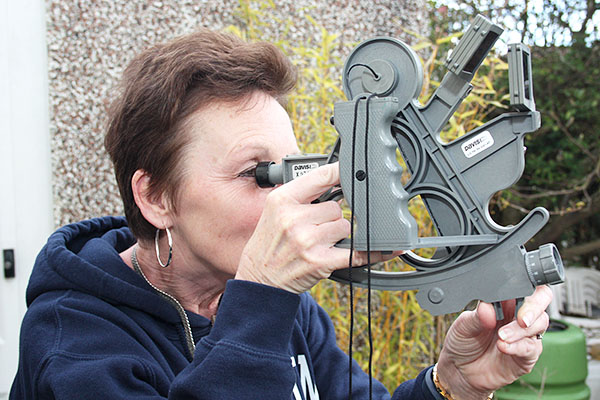 This course is demanding and requires a commitment to self-study (we advise approximately 10-12 hours, although this varies depending on experience). You may wish to run the course intensively on 5 consecutive days, or spread it over a number of weeks, it is entirely your choice. Just let us know how you'd like to do it.
Navigation Refresher
If you have been sailing some time but need brushing up on basic techniques before taking a practical exam, then PanPan Sailing School can provide you with just that. Half-day courses are probably the best, but if you need more time, then ask- we can provide exactly what you require. We can even do the navigation refresher on your own boat if you have the facilities. You say what you wish to cover and we can provide.


• t: 020 8657 6648 • m: 07714 455834 • e: panpansail@europe.com